Slade NEWS
Slade win AIM Award
BMG and Salvo are delighted to announce that last night at the AIM Awards Slade won the award for "Special Catalogue Release Of The Year" for the Slade box set "When Slade Rocked The World".
Noddy Holder from Slade commented on receiving the award "... it's amazing to win an award for music we made 45 years ago... I'd like to thank BMG, they're true music fans..."
Read more...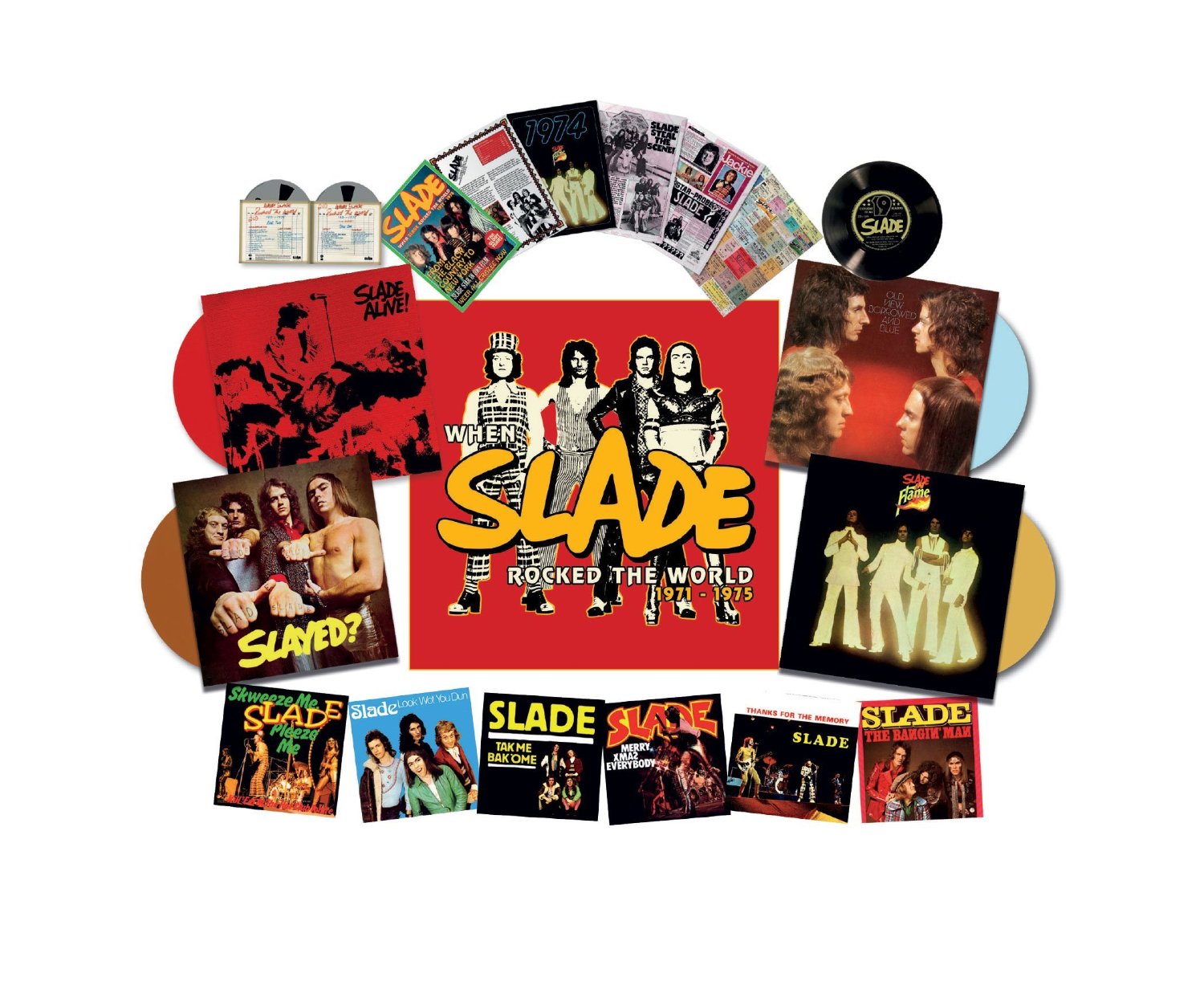 VOTE for SLADE!!!
The mighty Slade have been nominated for the Classic Rock Awards Reissue Of The Year for their boxset "When Slade Rocked The World"! Below is a vote LINK for you to show your support. Share the love and rock the world!
Read more...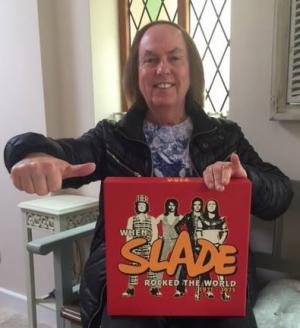 Slade AIM to Rock The World
The Slade boxset "When Slade Rocked The World" has been nominated for this year's AIM Awards in the "Special Catalogue Release Of The Year" category.
We're thrilled to be nominated for the release and let's hope "When Slade Rocked The World" comes out on top!
In the meantime, you can order the boxset from Amazon here:

Read more...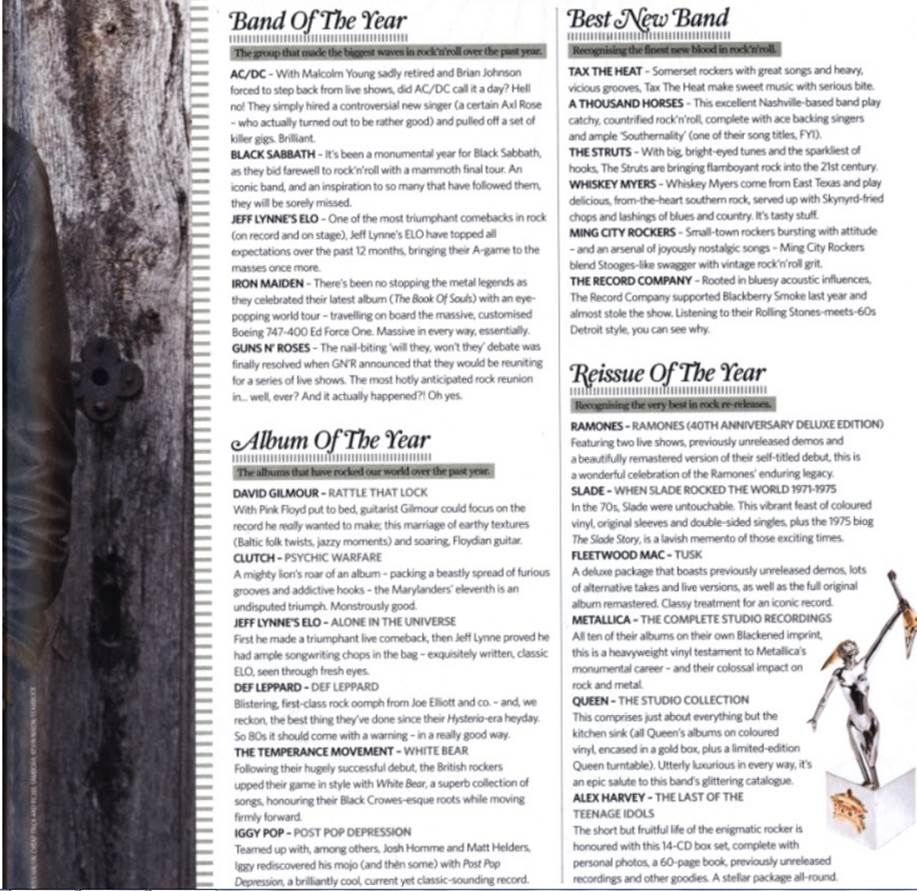 Slade Box Set Nominated for Classic Rock Award
Amazing news! The Slade box set "When Slade Rocked The World" has been nominated for Reissue Of The Year at this year's Classic Rock Awards. The award show is on 11th November and will come live from Ryogoku Kokugikan Arena in Tokyo.
When Slade Rocked The World is available here
Read more...

When Slade Rocked The World 1971-1975



When Slade Rocked The World 1971-1975

Deluxe Slade box set available in two configurations from PledgeMusic from 30th October

Described as 'the missing link between the Beatles and Oasis' (the latter having covered `Cum On Feel The Noize'), Slade are never far from British ears and hearts, having created some of the most beloved, indelible songs in the history of popular music.

Their six UK #1 singles spent 20 weeks at the top of the chart, and overall they spent a phenomenal 211 weeks in the UK Top 40; they had 3 UK #1 albums and spent a combined 153 weeks in the album chart Top 40.

When Slade Rocked The World 1971-1975 pays homage to their phenomenal run of hit singles and albums in the early '70s, when they seemingly could do no wrong.

THE SALVO BOX SET INCLUDES

- 4 x vinyl LPs (Slade Alive!, Slayed?, Old New Borrowed and Blue and Slade In Flame) reproduced in their original sleeves, remastered and pressed on 180gm coloured vinyl
- 4 x double sided picture sleeve singles covering the key hits released outside of those albums
'Coz I Love You' / 'Look Wot You Dun'
'Take Me Bak 'Ome' / 'Cum On Feel The Noize'
'Skweeze Me Pleeze Me' / 'Merry Xmas Everybody'
'The Bangin' Man' / 'Thanks For The Memory'
- 2 CD anthology of the audio on the 4 vinyl LPs
- Reproduction of an original flexidisc ('Slade Talk to '19' Readers')
- 10''¯ annual style hardback book featuring reviews, features and memorabilia from each of the key years along with an introduction by Mark Ellen
- Reproduction of George Tremlett's excellent 1975 book The Slade Story including period interviews with all four band members and a chronology of tour and release dates up to the time of its publication.
- All presented in a sturdy 12'' box with foam fitment


1,000 BOXES AVAILABLE EXCLUSIVELY FROM PLEDGEMUSIC INCLUDE A SET OF 8 REPRODUCTIONS OF THE ORIGINAL SLADE IN FLAME FILM LOBBY CARDS
Read more...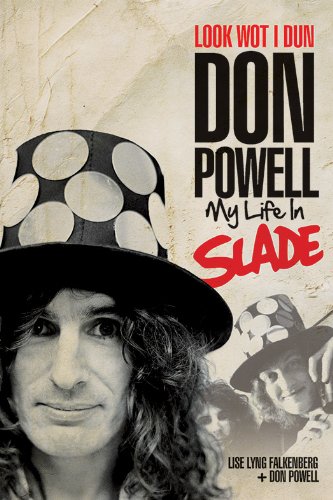 Official biography of Slade's Don Powell to be published - personal appearances this weekend

'Look Wot I Dun', the new biography of Slade drummer Don Powell, written with his friend, journalist Lise Lyng Falkenberg, will be published on October 14.

"This book is not a flimsy biography pieced together in three months by a ghost writer " says Lise. "It is a thorough account of Don's life, not just as a Slade drummer, but as a person who has had to overcome huge obstacles in his life in order to get to where he is today. The book is based on more than 50 hours of interviews with Don as well as 20 years of diaries and interviews with and contributions from 28 of Don's friends, colleagues and family members".

PRE-PUBLICATION BOOK SIGNINGS & CHARITY TEA EVENT

Don has announced two early book signings, together with a charity "Tea with Don Powell" event

•Book signing - Waterstones, Wolverhampton - Friday 4 October at midday to 1pm
•"Tea with Don Powell" event - Connaught Hotel, Wolverhampton - Friday 4 October 3pm onwards
•Book signing - Waterstones, Walsall - Saturday 5 October at midday to 1pm

BOOK SIGNING AT WATERSTONES, WOLVERHAMPTON

The first book signing will be take place on Friday 4 October 2013 at Waterstones, 13-15 Victoria Street, Wolverhampton, WV1 3NP at midday til 1pm (shop telephone number 0843 290 8701). This signing will be an early opportunity to purchase Don's book. Don will be accompanied by Lise.

CHARITY "TEA WITH DON POWELL"

There will also be a totally separate event. It's a question and answer session later that day in the Connaught Hotel, Tettenhall Road, Wolverhampton, WV1 4SW. This event, at which will Don will be discussing his life with Clive Eakin of BBC Coventry & Warwick will be called "Tea with Don Powell" - and will be run in support of the National Autistic Society (which Don supports). Please note: The Connaught Hotel is currently changing it's name - by the time the event takes place it will be called the Quality Hotel, Wolverhampton.
Tickets are £10 (which includes Tea,Sandwiches & Cake and can be purchased here

•Attendees can complete question cards before the event - and hand them in for Don to answer during the Q&A. So get thinking of those questions that you've always wanted to ask him!
•Afternoon tea and cakes will be served during the event (as part of the entrance fee) - but for those drinkers attending, the bar will also be open.
•Don is keen to revisit The Connaught Hotel, as he played there numerous times with the 'N Betweens in the 1960's... Slade historian Chris Selby calculates that Don played at the Connaught Hotel 41 times in all (with The 'N Betweens, Ambrose Slade and Slade). His last performance there was before Slade released Get Down and Get With It...

Prior to this event, Don launches 'Look Wot I Dun' at Waterstones Bookshop, Woverhampton between midday and 1pm.

Lastly, on Saturday 5th October 2013, Don will be at Waterstones Bookshop Walsall, again between between midday and 1pm, to sign the book.

Full details on all the above can be found at Don's Official website.

Don has so many interesting stories to tell, it's bound to be a great read and is a must for the Slade fan in your life!

All of the albums that he recorded with Slade and a number of fine compilations are available on Salvo. Click here for details.

Read more...

Slade night on BBC 4

It's Slade Night on BBC 4 tonight, starting at 9pm. The biggest Black Country band of them all will feature in well over three hours of rocking documentaries and vintage movie gold. The night kicks off with the 1999 documentary It's Slade, followed by a brand new, specially commissioned documentary called Slade @ the BBC, featuring archive material not seen on UK television since the original transmissions. Then, at 10.50, there will be a screening of what is universally regarded as one the finest rock movies ever made, Slade In Flame.


9pm - It's Slade - documentary about the band

9.50pm - Slade At The BBC - compilation of appearances on the BBC introduced by Noddy Holder

10.50pm - Flame - The major motion pic from 1974

Click here to see all our Slade releases

Read more...