Nazareth NEWS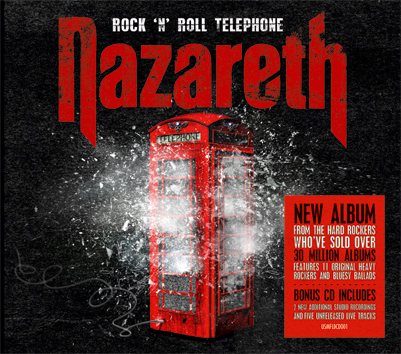 Rock 'n' Roll Telephone - Listening party on Soundcloud

Starting Monday 2nd June, you can stream Nazareth's acclaimed new album Rock 'n' Roll Telephone on Soundcloud before you buy it.

Classic Rock proclaimed the album as "very much in the classic Nazareth tradition - heavy, no frills rock 'n' roll with that rasping voice its unmistakeable signature", and Mojo declares that "McCafferty signs off just as he began back in '68: defiant and swinging," as this is to be his last recording with the band, a triumphant end to the career of "one of the all-time great rock singers".

The album is released on 3rd June in North America, 6th June in Germany, and 9th June in the UK and the rest of the world.

See Facebook for more details


Read more...

Nazareth singer Dan McCafferty retires

The veteran vocalist collapsed on stage in Switzerland at the weekend of Aug 24th / 25th and has admitted that a lung disease has brought an end to his 45-year live career. In an interview with Classic Rock McCafferty said: "I've got Chronic Obstructive Pulmonary Disease and it's been getting worse over the years. You don't know when it's going to come on, but suddenly you can't breathe.

"I was going on stage at Summerfest in Switzerland thinking, 'This is great – our first festival in a few months and it's a lovely day.' We couldn't have asked for better."
Three songs in he suffered an attack of COPD, leaving him out of breath and unable to continue. He decided at that moment to retire with immediate effect. "When I came off stage I said to the boys: 'I can't keep doing this to the band.' I can't embarrass the boys and the fans. If you can't do the job you shouldn't be there – Nazareth's too big for that."

McCafferty's decision came after he'd taken a break following a recent collapse onstage in Canada, which was caused by a burst stomach ulcer. "I thought I'd be fine," he says, "But you lose so much blood when that happens."

He admits he and his bandmates are "a wee bit emotional" and haven't come to terms with the news, but he says: "The music we've made over the years is more important than any member of the band. We always felt like that, and I can't see that's changed just because I've left. "I really hope they get someone else. I'm sure they can."

Naz recently completed recording work on their 24th album, not yet titled but scheduled for release on USM's Salvo label "To go into a studio and sing isn't like doing a gig," says McCafferty. "I could always make another record, but getting up to do an hour and three-quarters, and get people to pay money to come and see me – I can't do that."

He's going to take time out to consider his future, but says a solo album might be a possibility. As to the chances of a farewell show, he jokes: "It could be like, 'I'll sing for ten minutes, everyone go for a pint, than I'll sing for another ten minutes.' I don't know how well that would work!" McCafferty adds: "Let everyone know I appreciate they've been there for all these years."

Naz formed in Fife, Scotland in 1968, with McCafferty and bassist Pete Agnew the only members to feature in all lineups until now. Other members included Manny Charlton, John Locke, Zal Cleminson and TeamRock Radio Blues Magazine Show host Billy Rankin. The last lineup to feature McCafferty had been stable since 2002, with guitarist Jimmy Murrison and Agnew's son Lee on drums.

(with thanks to Classic Rock)


Read more...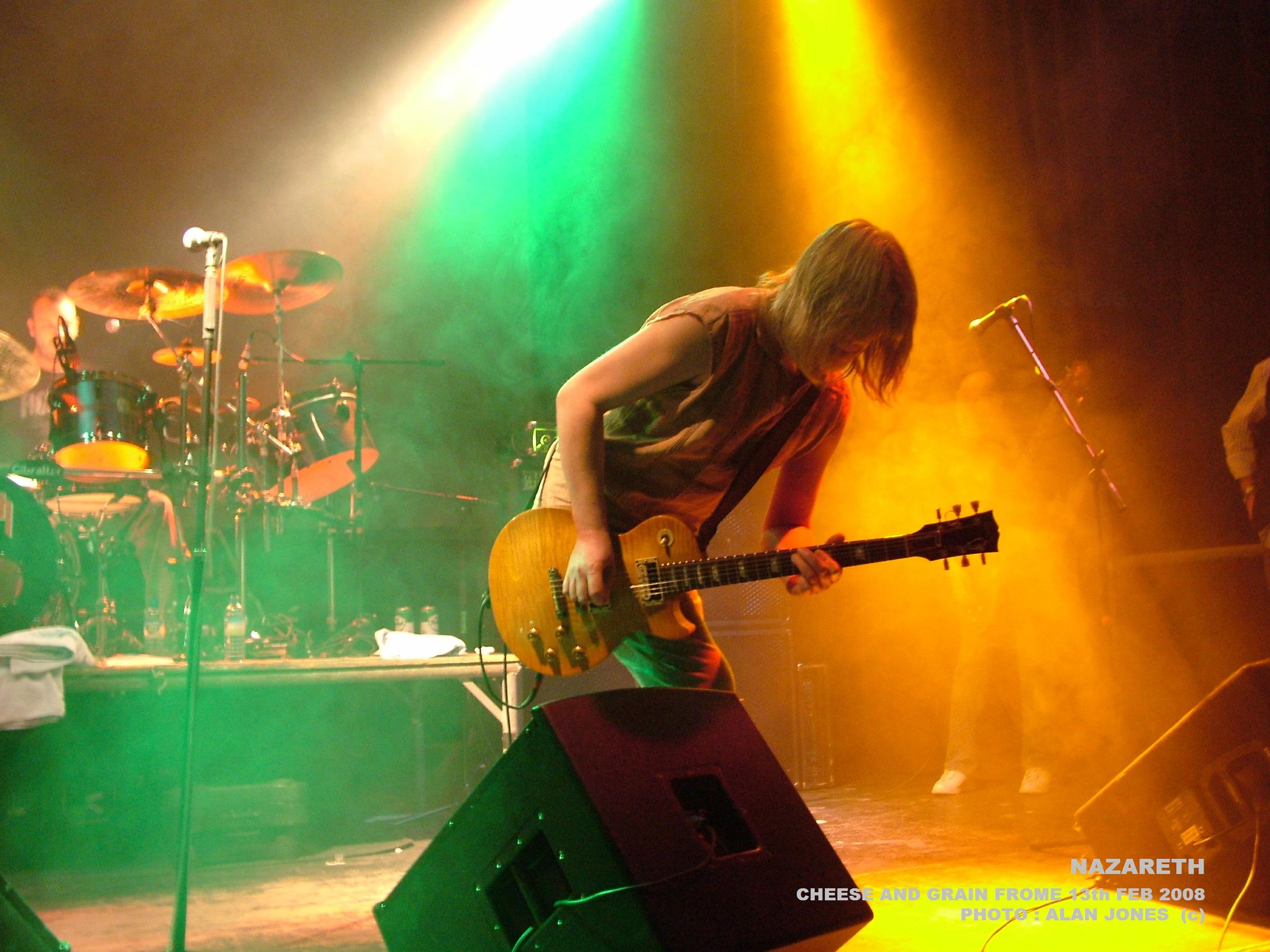 Nazareth schedule mini-tour of England!

Scottish rock greats, Nazareth, are making a rare trip to England next month with five dates across the country as follows:

17th March
Yardbirds Rock Club, Grimsby

19th March
The Railway Venue, Ipswich

21st March
Robin 2, Bilston

22nd March
Islington Assembly Hall, London

23rd March
Concorde 2, Brighton

They're guaranteed to put on a great show and tickets can be obtained here.

Having provided the official song - God Of The Mountain - for the Austrian ski team for the 2013 season, Nazareth appeared at the World Ski Championships in Schladming over the weekend. You can see some of their performance here.

Click here for details of Salvo's highly acclaimed Nazareth releases.

Read more...
Nazareth to play UK live dates in March
Following their powerful performance at Dunfermline's Alhambra Theatre on 14 January, Nazareth will embark on an 10-date UK tour in March. Details as follows:
Saturday March 10 - Classic Grand - GLASGOW
Sunday March 11 - Ironworks - INVERNESS
Tuesday March 13 - Dexters - DUNDEE
Thursday March 15 - The Grand - CLITHEROE
Friday March 16 - BEDFORD - TBC
Saturday March 17 – YORK - TBC
Tuesday March 20 - O2 Academy – NEWCASTLE-UPON-TYNE
Wednesday March 21 - The Brook - SOUTHAMPTON
Friday March 23 – The Assembly Rooms – DERBY
Saturday March 24 – The Robin 2 - BILSTON
You can see all the releases in Salvo's exhaustive and highly acclaimed Nazareth reissue campaign here.
Read more...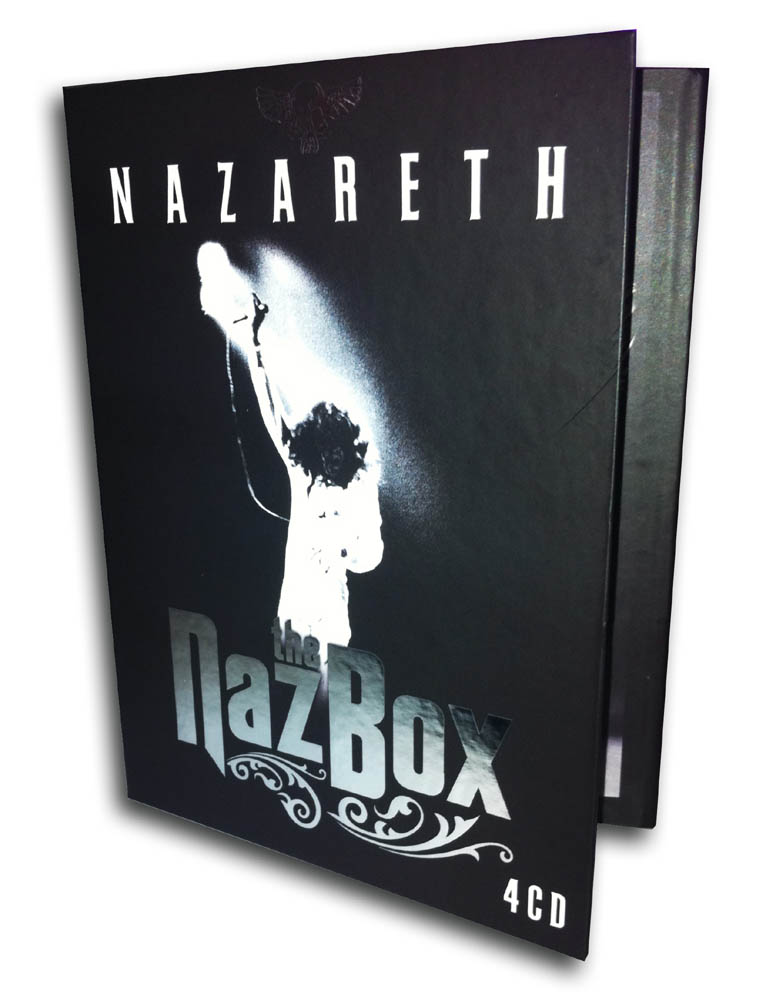 Naz Box unleashed on September 19
Taking in 40 years of studio recordings, adding a bounty of peak period, previously unavailable BBC concert material and nine unreleased rarities, The Naz Box is the 69-track tribute to a truly impressive career and it lands on September 19.
Remastered by Tim Turan, Scotland's foremost rockers have never sounded more potent and the accompanying 64-page book contains a detailed overview of Naz history written by noted rock biographer Joel McIver, plus a generous array of rare photos.
Few bands have enjoyed such longevity, overcoming the odds (and the fickle wheel of fashion) so many times to date that they are one of the very few touring acts to deserve the title of veterans. They've seen their fortunes rise, fall and rise again, shouldering and shrugging off myriad setbacks, enjoying and enduring commercial peaks and troughs that most bands can only imagine; and they're still taking it to the stage relentlessly. That's dedication. That's commitment. That's the essence of rock 'N' roll.
Read more...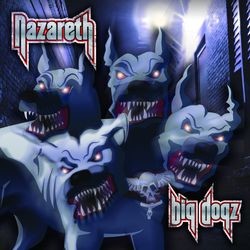 Nazareth's new album 'Big Dogz' to be released on April 15
Big Dogz will be the veteran rockers 22nd studio album (released in Europe by Edel Records) and has been produced by guitar player Jimmy Murrison and Yann Rouiller to "capture the challenging edge of classic rock'n'roll". To this end, they've completed an album with nearly no overdubs or multiple takes, no vocal lines or solos adjusted through a computer. Big Dogz is simply the sound of four men who live rock music, recording together in the same room at the same time.
Will it join the ranks of their finest albums, such as Razamanz, Hair Of The Dog and No Mean City, as one the most representative episodes of their glorious history? Time will tell but the advance signs are encouraging.
You can see Salvo's acclaimed Nazareth reissues here
The band are touring extensively this year (as always). They're just about to hit Russia. You can see their current touring schedule here. They're a fantastic live act so do check them out if you get the chance.
Read more...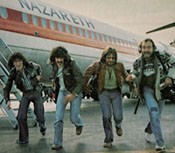 New Nazareth reissues hit the streets
Salvo's Nazareth reissue programme continues this month with two of the Scottish rockers' finest albums - Expect No Mercy (1977) and No Mean City (1979).
Each has been remastered from the original tapes by Manny Charlton and Tim Turan. What's more, each contains previously unreleased material from the album sessions and, in the case of Expect No Mercy, an entirely unheard version of the album. This "new" version was rejected by the band's US label at the time, but is every bit as good as the album that was released and contains several tracks that haven't seen the light of day until now.
Nazareth hit a peak with these two long players. See the following video performances for further evidence.

Read more...